All season, the Milwaukee Brewers were a band propped up by a stud lead guitarist. The drummer was often off-beat, the singer was pitchy, the rhythm guitarist was clearly only in the band because he was the singer's kid brother, and the bass player was … well actually, the bass player was pretty sweet, too. But man, could that lead guitar shred. He was the reason the band could book any gig in town, the standout performer every night. His name was Christian Yelich, and on September 10, he fell off the stage — or rather, he fouled a pitch off his kneecap, and suffered a season-ending fracture. As Jay Jaffe wrote at the time, the injury dampened what were already somewhat long playoff odds for the Brewers. But the band pressed on, undeterred by the loss of their star. And lo and behold, they've sounded incredible.
On September 5, our playoff odds put Milwaukee's chances of reaching the postseason at just 5.6%. Those were worse odds than in-division rivals St. Louis and Chicago, and also put them at lower Wild Card odds than New York and Arizona. They won five straight games before losing Yelich, but that still only raised their chances to 25%. Yelich had already accumulated 7.8 WAR, and was in excellent position to win a second-straight MVP award, and he fell out of the picture. Without him, the Brewers had just one other 4 WAR player, and just six 2 WAR players. That lack of starter-quality depth placed them in the back half of all the teams in baseball.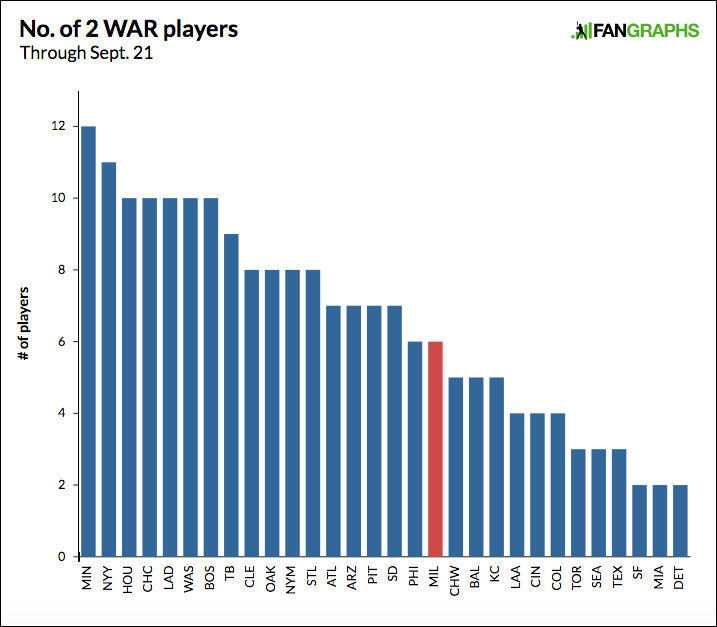 Every team with fewer 2 WAR players than the Brewers has been firmly out of the playoff race for weeks, and a number of teams in front of them — including Boston, Pittsburgh and San Diego — have been out of the race for a while as well. No contender was more poorly equipped to lose a star player for final month of the season than Milwaukee. At least, that was the way it appeared.
That five-game win streak the Brewers were riding when Yelich hit the IL? It ultimately turned into seven games. They finally lost in St. Louis, but rattled off four more wins after that. Then came another loss, this time at San Diego, followed by four more victories. Overall, the Brewers are 15-2 since September 6. In that time, they've raised their playoff odds from 5.6% to 97.1%. It's one of the best runs any team has put together this season, and given the circumstances, it's come from one of the last teams one would expect.
A portion of the Brewers' success can certainly be credited to the competition they've faced over this stretch. Of their last 17 games, 11 have come against the Marlins, Padres and Pirates. September is a very fortunate time to run into two last place teams and a third non-contender, but to be fair, the Brewers pushed them around exactly the way they should have. They won 10 of those 11 matchups, outscoring their hapless opponents by a jaw-dropping 60-23 margin. Playoff teams are supposed to look dominant against inferior competition, and that's exactly what Milwaukee was. Their recent hot streak also included three wins in a row over the Cubs and two victories in three games over the Cardinals, the two most direct obstacles to their postseason hopes.
Regardless of who's been in the opposite dugout, Milwaukee has been brilliant, especially on the mound. Its pitching staff has an ERA of 2.61 over its last 17 games, the best in the majors. That number includes a 10-run outburst by St. Louis, which, if stripped away, drops the Brewers' ERA to just 2.13. In the rotation, four starters have maintained ERAs under 2.50 over this stretch, with the lowest belonging to Jordan Lyles (1.80) and Chase Anderson (1.93).
All four of those starters, unsurprisingly, are outperforming their respective FIPs by substantial margins, as good walk and home run prevention have combined with low BABIPs to stifle opponents' scoring chances. But there is no doubting the Brewers' rotation has been great, and their bullpen has been even better. Jake Mailhot just detailed Drew Pomeranz's transformation since joining Milwaukee's relief corps, and Josh Hader has continued to be brilliant if less so than he was in 2018, but the Brewers have also gotten splendid work from Brent Suter (12 scoreless IP since September 6), Freddy Peralta, and Junior Guerra.
This stretch of excellent pitching has happened to coincide with the Brewers being more aggressive than ever when it comes to lifting starters from games. They began getting creative with their pitching management last season, and limiting innings for starters was a part of that approach, as they finished the season with starters averaging fewer than 5.2 (meant to be read as a decimal, not as 5 2/3) innings per game. They've dipped to just 4.9 innings per start this season, and over the last 17 games, are averaging just 4.25 innings per start, along with just 66.7 pitches per start. Again, this is while their starters have been among the best in baseball at preventing runs. This is obviously a pre-planned strategy, and for the time being, it's producing fantastic results.
On Sunday, the Brewers started Brandon Woodruff, who retired each of the Pirates' first six hitters, striking out three. Despite his great start, Milwaukee manager Craig Counsell replaced him with Jay Jackson in the third inning. Jackson struck out all three batters he faced, only to be replaced in the fourth inning by Gio Gonzalez, who retired the next 10 batters in a row. Three Brewers pitchers combined to pitch a perfect 6.1 innings of baseball, and the staff finished the game without an earned run allowed for the second day in a row (Pittsburgh scored four unearned runs in the same time period).
On the offensive side, Yelich's offense has predictably difficult to replace. Since his injury, the Brewers have produced a wRC+ of just 86, 17th in the majors. That isn't remotely the show of force the pitching staff has displayed, but they still haven't been without heroes at the plate. Yasmani Grandal — consistently the second-best Brewer all season — has kept up his performance, hitting .245/.403/.509 over the Brewer's hot streak, while Mike Moustakas has homered four times in the 11 games since Yelich's injury. The team's best hitter has arguably been Trent Grisham, a 22-year-old rookie outfielder who has a 141 wRC+ since the reigning MVP went down; Eric Thames homered twice to make the difference in a one-run victory over the Pirates on Sunday.
It's impossible to tell Milwaukee's comeback story, however, without also discussing the repercussions for other teams. Baseball is a zero-sum game, and if the Brewers have so drastically raised their own playoff odds, it must mean another team has seen their own suddenly tumble. That other team has been the Cubs, who over the same stretch of time that has seen Milwaukee win 15 of 17, has sputtered to a record of just 6-11, including a current losing streak of six games. Just one week ago, the Cubs were in a marvelous spot, having won five in a row against the Padres, Pirates, and Reds and holding a 76.2% shot at the postseason. Then, things got dark. They dropped two in a row to lose a series against Cincinnati — who wound up going 11-8 against Chicago this season — before suffering a four-game sweep to the division-leading Cardinals, a nightmarish stretch that all but wiped out their chances at making the playoffs.
The immediate effects of these two polar opposite stretches are conveyed pretty explicitly in the NL Central playoff odds chart.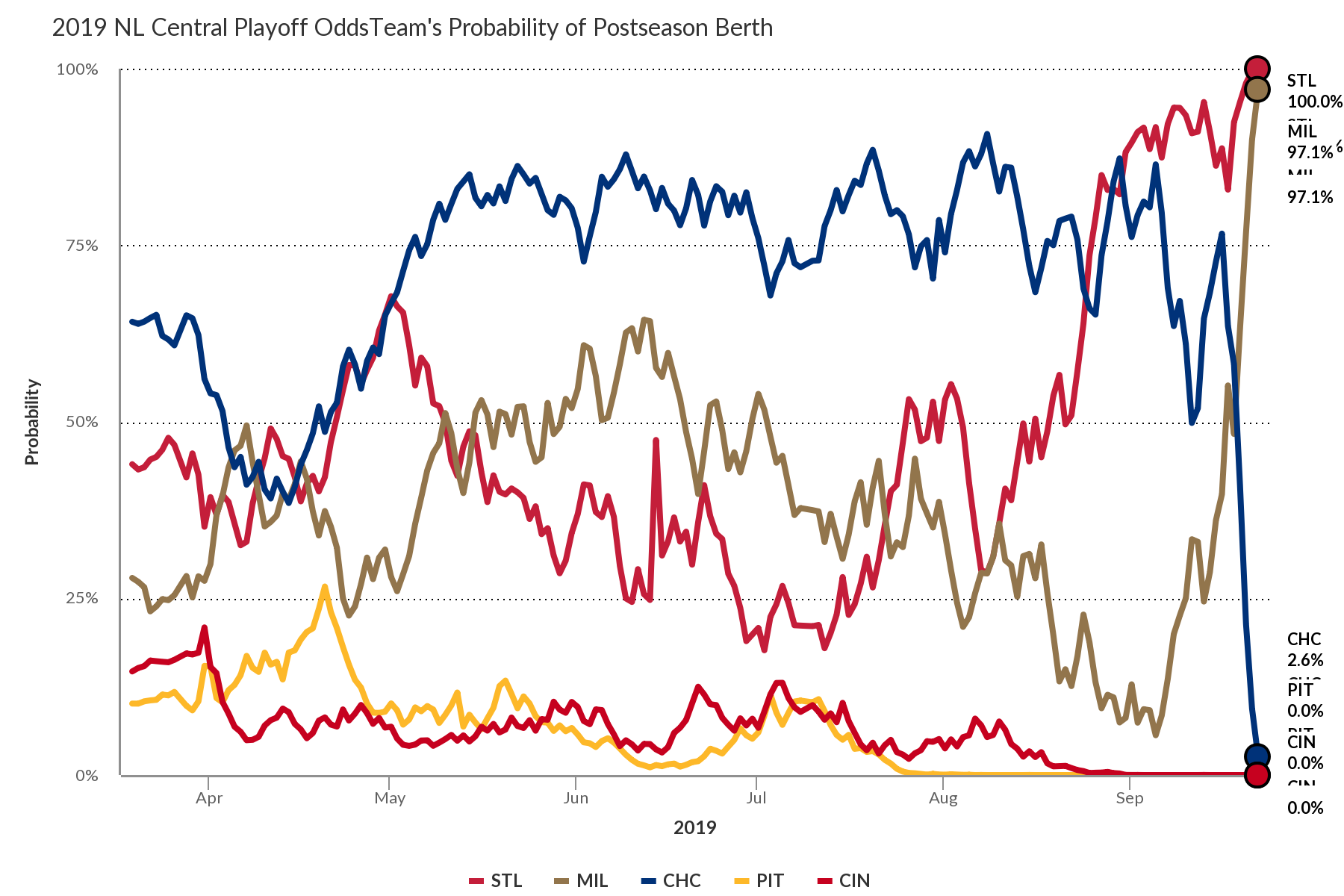 That's a brutal stretch for the Cubs, especially when considering each of their last five losses came by just a single run. It's also somewhat fitting, considering how significant a role one could argue luck has played in this season for each of these teams. Despite sitting in third place, the Cubs own the best run differential in the NL Central, at plus-111. Their Pythagorean record places them at 89-67, a whopping seven games better than their actual record of 82-74. The Brewers, meanwhile, have actually been outscored by two runs this season — even after this recent run of dominance — giving them a Pythagorean record of 78-78 that is eight games worse than their actual record of 86-70. They've been on the wrong end of more lopsided games than they've won, but when the game stays close, they've been as good at sealing the deal as just about anyone in baseball, going 26-16 in one-run games. The Cubs, on the other hand, are 19-26 in such contests.
A lot of noise can go into determining one-run games, but having quality high-end relief talent tends to help in ensuring your team comes out on top more often than not. That also happens to be one area that separates the Cubs and Brewers as much as anything else. Milwaukee has benefited from being able to use Hader at the end of games, with his 2.61 ERA and 16.5 K/9 throwing 72.1 innings and finishing 44 games this season. Chicago, however, has struggled to find the same stability at the back of their bullpen. It signed Craig Kimbrel, of course, to offer that service back in June, but he's never settled in as the team's closer, owning a 6.53 ERA and 8.01 FIP in 20.2 IP this season and allowing the losing run in two of the team's four games against the Cardinals over the weekend. With his struggles, the Cubs have given several other pitchers opportunities to become their stopper, but from Pedro Strop to Steve Cishek to even Tyler Chatwood, no one ever nailed down the role.
The past week didn't completely settle the National League playoff picture, but it came awfully close. With six games left, the Brewers are tied with the Nationals for the first and second Wild Card spots, with the Cubs four games out. The Brewers' remaining schedule includes two more non-contenders in Cincinnati and Colorado, though Milwaukee has hardly dominated either, going 10-10 against those two teams this season. Chicago, meanwhile, gets to knock Pittsburgh around for three games this week, but must close the year with three more games in St. Louis. The only question that may still need answered in a few days is which of Milwaukee and Washington gets to claim home field advantage for the Wild Card game, something the Nationals will need to overcome a lot to attain, with eight remaining games in the next seven games — five against Philadelphia, with a doubleheader on Tuesday thanks to a rain-out earlier this season, and a season-ending series against Cleveland, who will be fighting for its own Wild Card fate. A one-in-20 shot at the playoffs less than three weeks ago, Milwaukee now seems like a good bet to decide an NLDS trip in its home ballpark.
The more interesting questions, then, involve what a Brewers playoff run this season looks like. Even after this torrid run, our playoff odds still give them just a 13.8% chance of reaching the NLCS, a 5.3% chance of reaching the World Series, and a 1% chance of winning the championship. In going against one of the Nationals' intimidating starters in the Wild Card game, would the Brewers choose Lyles — a mid-season acquisition from Pittsburgh whose 2.35 ERA after 10 starts in Milwaukee might be tempting to bet on despite the fact that his FIP is more than two runs higher — to lead them into battle, or would a combo of Woodruff, Gonzalez, and Hader be the call? Can their offense hit enough to be more than just a sad reminder of the fact that Yelich isn't in the lineup?
There are a lot of reasons to be surprised that the Brewers are in this position, and subsequently skeptical of how they'll handle worthy opponents in the postseason. But there were a ton of questions facing this team even before it lost its MVP, and look at how they've responded. The music is still going. The pyrotechnics aren't as dazzling, and the solos don't have the same flourish. But the sound is still there. Don't stop listening yet.